Since it's October and I'm elbow deep in work with this event for
Renee's Family
I thought I'd talk a little bit more about my Mommy today for my PYHO post. I wrote a post earlier this week about her, titled
I used to be that little girl
.
I feel the need to talk about it again, because I finally feel open enough to share that part of my life and because talking about my experience openly and honestly has moved and motivated some of you to donate to Renee's family.

Also, if anyone reading this would like to participate in the event you can read this and get an idea of what is going on and you can email me at:
ZombieHousewifeBlog@gmail.com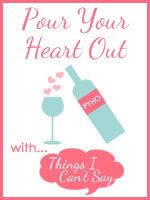 My Mother was a beautiful woman. As I said before she was always put together, never left the house without her makeup on and her hair fixed. She always wore earrings. She always put on some jewelry before leaving the house for the day. I remember the way she smelled, like the perfume she always wore. I would buy her a bottle of it each Mothers Day. No matter what I would always pick out that same bottle for her, each and every year. That perfume was an extension of my mother, of who she was. I'll always relate that smell to her in my mind, without even thinking about it.
I was in awe of my Mommy as a little girl. How she would take a black pencil and line her eyes, so perfectly. How her lips were always stained that perfect shade of color, a red-ish color. How her hair was always curled just so. The way her skin seemed to be the perfect shade, not too dark to where it looked like she had been baking in the sun for days, but not light enough to imply that she never left the shade in the summer. She was the perfect color, I always thought. She was a bit darker complected than I, but albinos are darker than me so that isn't all together surprising.
She always knew what to say, not just to me but to everyone. She was friends with everyone. Everyone loved my Mommy! Even now when I happen across someone who knew her they will tell me how much they just loved Brenda, what a good friend she was and more than that what a good person she was. When they say these things I am simultaneously proud, blessed and jealous. I am proud because that wonderful woman they are speaking about contributed half of my DNA, and I know I share some of the same qualities that they are praising her for. I am blessed to have known her, to be her daughter and to have both loved her and been loved by her. I am jealous because they have memories of her, and I have just a cherished few, and I feel as though it is not fair that these people get to remember her more, know her better and have had more time with her than I did.
I sometimes feel cheated because I only got to know my Mommy as a little girl knows her Mother. I never got to know her as a tween or preteen, a teenager or a grown woman knows their Mother. I never got to be her best friend. I never got to call her immediately after I take a pregnancy test and it comes up positive. She wasn't the person I called when Justin asked me to marry him. She wasn't the woman to my left, holding my hand as I pushed her second and third grandsons into the world. She wasn't the one helping me get ready for prom or teaching me how to put makeup on when I was finally allowed to wear it to school. I didn't and she wasn't because she was not here for any of those things.
I miss her, but more than the things that I remember us doing together I miss the things that we should be doing together today. Isn't it funny how you can miss something that never happened? How you can miss your Mom holding your sons when she has never physically held them and she never will? How you can miss calling your Mother when you have a problem with your husband or with a friend or when your son starts to walk, when you've never been able to pick up the phone and call her for any of those things? I miss those things more than it seems possible to miss anything in the world. I miss my Mommy. I miss her so much that sometimes it physically hurts me.
I miss her like crazy, each and every day I think of her. I look a lot like her, everyone tells me that. I have a lot of her qualities as well. I'm a loving and loyal friend, and I truly care about helping others. I'm a devoted Mother and Wife, just like she was. I try my best at every single thing I do, which is something I got from her as well, because she never half arsed anything she did she always put her whole self into things, and I'm the exact same way. We share a mutual love of music, and I got my taste for Johnny Cash from her. I also inherited her temper, which means that it takes a lot to get under my skin and really get me going, but when you push me there it's not pretty and you'll probably rethink your actions that put me there. I'm very willing to
I was just a little girl when she passed away. My Dad had a really hard time with it, he lost the love of his life and was left behind to raise a young daughter as a man alone. With no woman to help guide him on how to raise me. A lesser man may have crumbled under that pressure of raising a very little girl alone after she just lost her Mommy to cancer, but not my Daddy. He truly rose to the occasion, giving me a better life than a lot of people have. Just like the promised my Mom he would. I know she must have been so worried about me and my older brother, who was already on a self destructive path. If she were here, she would still be worried about him, but I'm worried about him & his kids enough for the both of us.
My Mom was one of the hardest working people I've ever known. She worked every day of her life either at home or at her job. She did this so that she would be able to give her family the best life possible. She always talked about wanting to take a year off and stay home with me, but that never came to be. She passed away before she had the chance. But I am forever grateful to have had what time with her that I did, because she has given me some of the most cherished memories that I have. I hold each and every one of them near to my heart and even though I can not remember the sound of her voice anymore I can still remember my times with her. Those special times that we shared as mother and daughter. I don't remember a lot of them, because I was so young when she passed, but the ones that I do remember are beautiful and special.
I love you Mommy, so much! Even though I'm all grown up, you're still the most beautiful, kindest and most wonderful woman I know. I love you and I miss you each and every day! I promise to always tell my boys about you, so that they will know that they have a Grandmother up in Heaven looking down on them and who loves them more than anything. Someone who would have thought of them as the most beautiful little boys to ever exist and someone who would have cherished them just as much as their Mommy & Daddy do! You were the best Mom I could have asked for, thank you for all that you did for me and all that you did with me! I miss you just as much today as I did when I was a little girl and you were in the hospital. You are a very special person to me, and I promise to do my best to make you proud of me! I love you so much!