Not the switch from blogger to wordpress, but the switch from .blogspot to .com and I must say, I love it! I'm so excited to finally have my very own AHousewifeManifesto.com that I'm doing a happy dance as I type this, you can't see it, but I'm doing it. Isn't it just so much cuter now that it's housed on it's very own matching domain name? I think so.
I've updated the link to my button, so if you want to be a dear and switch them out that would be just lovely of you! I've also got new email addresses, so I'll be updating all that info here in a bit.
It's Follow Me Back Tuesday and I'll be getting to that in a minute, but first I want to address something else.
There are only two days left to enter my CSNStores.com $50.00 Gift Certificate Giveaway, so if you want to win you have today and tomorrow to get those entries in!
I've got a couple other things coming up this week, some brilliant giveaways for you, and some other posts. So come back and check those out!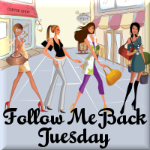 Now, as I said it's Follow Me Back Tuesday, and you can link up too at
Boobies Babies and a Blog
,
Little YaYa's
or
Survey Junkie
. Don't forget to follow this weeks guest hosts
The White Whimsies
and
Staying Me
!
I am also linking up with the following meme's today: