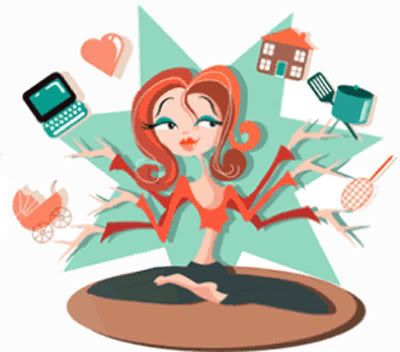 Being a Wife and Mom is a balancing act. A tricky one at that, like walking a tight rope over a pool filled with rabid sharks. Sometimes it's hard, but you eventually get used to it. Recently though my balance has shifted, due to the move, trying to get things around the new house straightened out and everything that comes with that. Which has made it more difficult, and I haven't yet found my center of gravity again. I'm trying, don't get me wrong, but it's just hard.
Obviously I don't work outside the home, and I honestly have no desire to. I'm not lazy, but I just don't have a desire to leave my kids with someone else and go to a job that I don't particularly care for. I don't have an issue with other Women working outside the home, but it's just not right for me, at least not right now anyway. I have a not yet 4 year old and a 12 month old, and I feel like my place is here with them. There are barely enough hours in my day for playing with the boys, reading to them, cooking meals, making snacks, cleaning, laundry, getting this house in order, changing diapers, singing songs while my oldest is going number 2 on the potty (yes, I really do that! He insists that I make up songs about whatever word he says while he is pooping, and who am I to argue with the harmony of his bathroom experience?), kissing boo-boos, putting away clothes, spending individual and family time with the boys, spending quality time with my husband, blogging, facebook'ing, showering, taking time for me and the eleventy point five hundred other things I have to get done in one day. So I really don't see how I could add even one more thing onto my list.
I'm struggling with our decision to move here and the impact it is having on Aiden. Quite frankly I miss the convenience of living in town as well, and I don't like living out here where I don't have anything in walking distance and I can't make a 2 minute run to a store for something or another anytime I need to. It's been a lot of work trying to get my Mother-in-Law's things out of this house and into Granny's house. It's been even more work trying to make her former house feel like our home when it still contains most of her things and barely any of ours because there is no room for our things. On top of it all Jagger is teething, which is no small thing for him. His fifth tooth has come through and he is working on his sixth, which makes for a very cranky Jagger.
I am finally finding some semblance of a groove again, which is nice. But I still can't wait to get my things here. I want my pictures on the walls and my curtains put up. I want my bed and my book shelf. I want the rest of my clothes! I want my things here! It just doesn't feel like home yet, and honestly I'm not sure that it ever will. I'm worried about living next door to my Mother-in-Law and her tendency to be way too bossy and try to tell us how to raise our children. But at least I've found a small piece of normalcy in my routine. I thank God for that! I've had to neglect my blog for the past week or so, because I've just had too much to do and I was unsure where to start. I am finally able to get back to my full routine, which I am so thankful for! It makes the balancing a bit easier.
I will be able to finish Jagger's Event, starting tomorrow! Which means that my giveaways will be going up. I didn't think it would take this long to get the house in some sort of order, but it did. I am glad to be able to get back to doing what I need to do on this blog instead of just having to focus on the house. I'm looking forward to being able to get my reviews up and finally finish the Jagger's Turning One Event.
Also, I have started another blog. You can check it out if you want to, and feel free to follow me, I haven't posted much yet, but I'm planning on posting later tonight or tomorrow. Feel free to follow it if you want to. (= It's called
The Vintage Housewife
!