What's your real name?
Ashlee
Have you ever fabricated a story or anything on your blog?
Never. I'm an honest person, which means I am an honest blogger! Why lie? I mean really, what purpose does it serve? It might make you feel "cooler" but honestly if it's all made up then wouldn't that just make you feel like the biggest loser? This isn't middle school, people should be secure enough in themselves to just be themselves. I don't know about everyone else but I like
real
people, not fake ass people.
When in the car do you listen to the radio/CDs/iPod/etc?
CD's or Sattelite Radio! I got the best kids CD from an awesome giveaway I won, so we've been listening to that, actually.
Describe the 'sexiest' item of clothing that you own
I'm about to write a review about one of the sexiest items of clothing that I own. So check back later today or tomorrow and you'll probably see a photo of me wearing it. ;)
Would you be willing to breastfeed your friend's three year old child?
No. I really just couldn't do that. I loved BF'ing my own children, but BF'ing a friends child would just be really odd to me. Plus...the kid is three, let her BF him cause he ain't biting my nipple off. lol I mean, really now...my boobs are not a water fountain, if a toddler is thirsty at my house I'd give them a juice or something not whip out the boob and offer it up.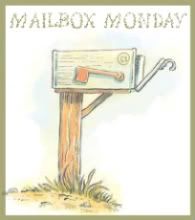 I love Mailbox Monday! <3